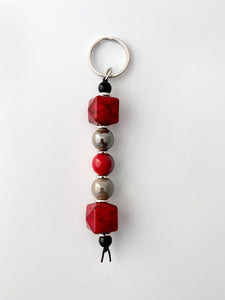 Keychains with a touch of fashion!

Made with leather or suede stringing material, and designed with wood, silicon, ceramic, gemstones, and glass beads. It's a mix-match of bead designs, color, length and style all hung from silver or gold ring hooks. They're different assortments and colors that share similar beads style and color with no keychain "identical" to the design. In other words, none are the exact same.
Size: 3 1/4 inches long. Two-tone red and white glass beads, with red ceramic and black Onyx beads on a silver key ring.